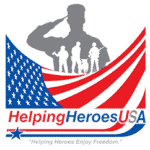 HELPING HEROES USA
​is dedicated and committed to assisting our active military, veterans, and first responders.
Tony DeMaio, Founder/CEO
Email: [email protected]
Brings over 40 successful years of corporate management, startup, training and sales experience to Big Media USA.
He started his broadcast career in 2004 with 3 radio shows in San Diego, golf, travel and business.
Tony Founded Life-Time Management and trained thousands of distributors and executives from many Fortune 500 companies in time management and sales skills.
He has launched several companies and sold them to major corporations. Including Duraflex Sports Products and Team Fit.
American Legion Department of California Area 5 Business Development/Communications Officer
LuAn Mitchell is an international bestselling author and an award-winning businesswoman. Ms. Mitchell has served on many boards, including Harvard Women's Leadership Board at the JFK School of Government in Boston. She is the first to ""role up her shirt sleeves and  serve with valuable causes. Through her business travels and keynote speaking she has developed a large network of supporters for the hero cause.  
Amado C Salinas II, Vice President of Veteran Affairs
Email: [email protected]
A Veteran of the U.S. NAVY California American Legion Area 5 District 21 Assistant Adjutant
Lifetime Member of Both the AMERICAN LEGION,
VETERAN OF FOREIGN WAR. Aerospace
Commission, AAIA , On Executive Board of Camp of
Champions, Board of Directors at USC Institute for
Genetic Medicine Art Gallery Engineer with Hughes
Aerospace and Communications. In the Aerospace
Industry, SST, KU-BAND Mil-Spec Military Satellites, Advance Stealth Jet
Fighters. Systems Analyst to the DoD/VAMC. The Software Development
Team that created Veterans Administration Medical I.D. allowing Veterans
to get medical attention anywhere in the world via a Secure Digital Image
Record System.
American Legion Department of California Area 5 Judge Advocate
Assistant Adjutant District 21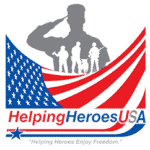 Represents all sectors of our military and first responders. As well as including business networks